Kommer Kleijn SBC


Director of Photography, Visual Effects Cinematographer, Motion Control Cinematographer,
Stereographer, Special and Large Format Cinematography.
*
Visual Effects Consultant, Image Technology Consultant


"Digital Film" Animation Camera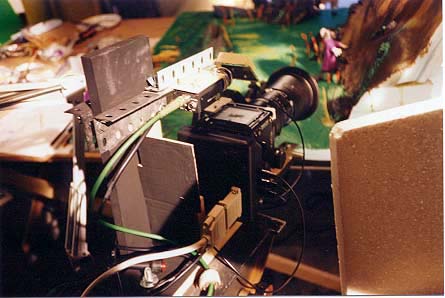 1996 - 2000
Digital Film camera based on a Very High Definition CCD chip.
Shoots without film, but with film quality! (NOT video)
Very small size and footprint relative to output quality
Output files compatible with current digital film postproduction equipment. No data compression.
Images are recorded on SCSI harddisks, wich are later burnt into CD-R's wich then act as our "original negative"
Resolution of 3096 times 2048 pixels @ 36 bit depth. (3k)
No image or data compression. Maximum quality.
Speed: 1 frame per 8 seconds.
Optical TTL mirror viewfinder on groundglass
Video assist on TTL viewfinder
Choice of Mamiya lenses
Remote control of shutter, mirror arming and data download
Mechanical Motion Control focus motor coupling.
Image treatment and processing for film recording worked out and available.
view pictures of this camera at work
A joint effort of Stephane Simal (K.E.E.N.) Paul-Francois Fontigny and Kommer Kleijn.
Credits:
ARTHUR - An Animated short by Guionne Leroy (5 minutes, 35mm) (K.E.E.N)
2 minutes of SFX Animation for THRILL RIDE (40 min 70mm 15 perf) (nWave Pictures)
KUROSAWA'S DREAM - Japan DVD commercial (30 seconds - TV) (Pascavision)
Article on ARTHUR on AWN Website
THRILL RIDE Official Website

Back to homepage.

To contact me, please send email to